Release 2.2.0 📬 Email notifications
Version 2.2.0 📬 Email notifications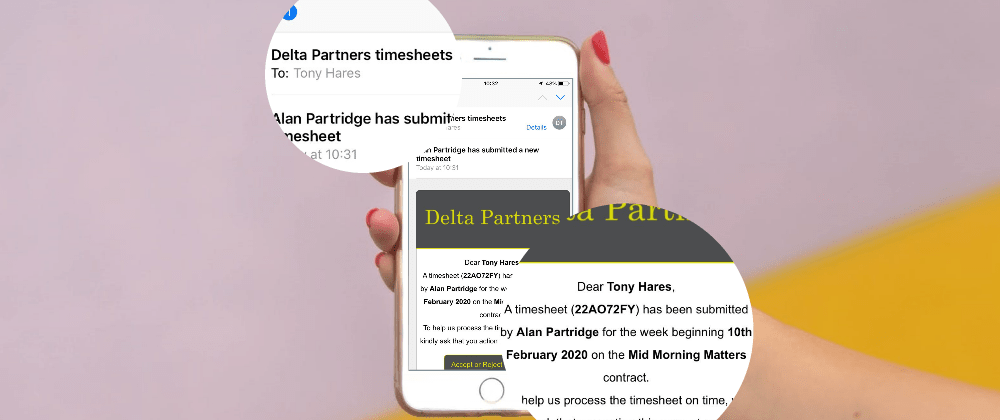 Email notifications
After much demand, we are happy to announce that email notifications are here! This means that when a contractor submits a timesheet, the primary authoriser receives an instant email notification. Once the timesheet is then authorised, the contractor receives an email saying that the timesheet has been accepted or rejected.
Agency 'from' name now applied to emails
We had never had this request before but in one week, two separate organisations asked for it, so here it is.
When emails are sent from your agency dashboard whether that be inviting a contractor or authoriser to the system or notifying authorisers or contractors of the status change of a timesheet.
The from name now shows as '[agency name] timesheets'.
Other minor additions
First parse of the UI improvement for the Contract detail page.
When you request a password reset, if you entered your email address into the login page, this will be carried across to the password reset page meaning that you don't need to re-enter it.
Email settings page added to allow contractors and authorisers to change preferences in line with the email notifications release.
Wording of timesheet submission changed from 'Add timesheet' to 'Send for authorisation' to make clear that this will mean something is sent from the system.
If you follow a link to a particular page but are not logged in, once you log in, you will still be taken to the original link.
In the timesheet detail page, the contract name now links to the contract detail page.
A 'No default set' has been added at the agency and contract level for:

Timesheet entry period (weekly or monthly).
Contractor billing rate (hourly rate or daily rate).
Holiday option from the previous release (yes or no).

Branding settings page button renamed from "Reset colours" to "Undo colour changes".

Timesheet detail page accept/ reject buttons now colour-coded when not hovering.

Various internal API improvements
Bug fixes
Branding removed from various buttons and headers where it didn't always make sense due to the agency brand colours.
Left hand menu was not scrolling for some pages.

Fixed error when redirecting to login page when the user is not logged in to the API.

On the timesheet detail page, on authorisation, the individual day entries status appeared, which should not be shown and is updated not to.
What's coming next?
PDF downloads
Timesheet notes
Improved editing
---